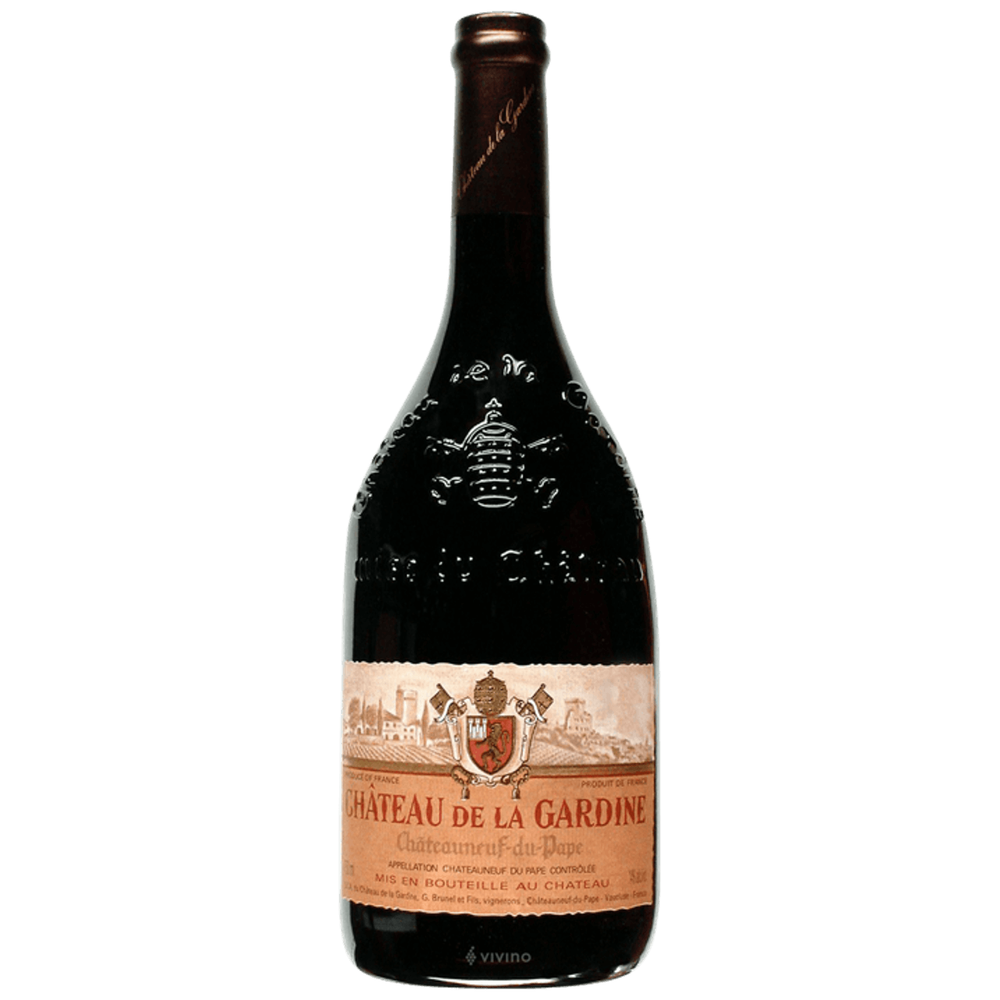 Chateau de la Gardine Chateauneuf du Pape – 60% Grenache, 20% Mourvedre, 15% Syrah, and 5% Muscardin. The wine is aged in a combination of vats and barrels, on average this works out to 60% in vats, and 40% in barrel for close to 12 months. 
This Chateauneuf is exactly what Chateau de la Gardine are famous for and one of the most splendid bottles you will have ever seen. You can enjoy this wine now, decanting it 3 to 4 hours before serving to give the exuberant aromas the opportunity to fully develop and to tame the young tannins. Stored in good conditions, this wine can easily wait patiently 20 to 30 years for the most memorable family dinners and special occasions.
The colour is very dense, like deep purple ink. The wine expresses some roasted notes on the nose. On the palate, cassis and blackberry jam dominate. The finish is very long with some very well integrated tannins.
The Story of the Bottle Design
Château de La Gardine wines are bottled since 1964 in an exclusive flask, fruit of the historical mind and the marketing genius of Gaston Brunel, patriarch and founding winemaker of the modern Château de La Gardine.
While digging the second underground cellar under the old house in the mid-fifties, the Brunel Family made an archeological find which has been pivotal for the Estate's future.
It was a very old mouth-blown flask, one of the first to have been used in Châteauneuf-du-Pape to bottle wines in the past. Today's bottles have been carved from the same mould and carry the same special etching that the old bottles had.
This well recognizable form connects the pioneer past of the Estate to it's very creative present. Gaston Brunel made his Rhône Crus and wines part of the ancient history of his Estate and launched them successfully. This bottle has been instrumental to the Brunel Family's very own conquest of the West, selling first in North America and then throughout the world.
You will find this unique flask almost everywhere, where people enjoy good eating and wines, on connoisseur tables as well as in the best restaurants.
Imagine if you could be satisfied and content with your purchase. That can very much be your reality with the Chateau de la Gardine Chateauneuf du Pape.

Inventory Last Updated: Sep 28, 2023