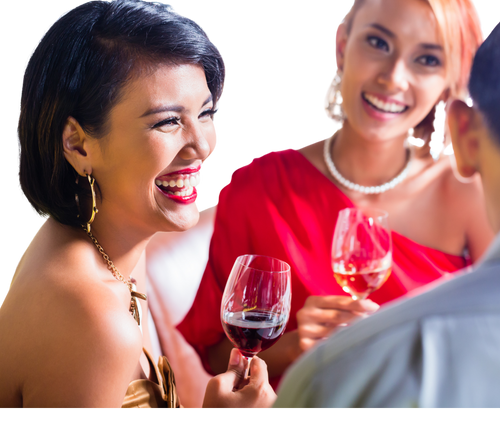 Close Friends
+ Handpicked Wines
+ Amazing Offers
= Fun Times
Who doesn't enjoy discounts and offers on award-winning wines. That's exactly what Curated Wines offers.
Enjoy both specially-created, limited-time promotions as well as always-on offers.
Featured below are all the promotions that are currently on. Browse through these and buy today!
10 Promotions to run all of October so you get 10X benefit!
10.10 is almost here! We are serving a buffet of 10 offers: a combo of new and previously popular ones. So that you can take your pick.
Go for it, NOW!
10 Promotions and Offers: 10X the benefits for you!
Deepavali, the festival of lights, is the time to celebrate the triumph of light over darkness, knowledge over ignorance, and good over evil.

Make the celebrations even more special this year with our Deepavali Collection of award-winning wines, especially put together by our Sommelier!
Surprise your friends with these great wines at very, very special prices. Award-winning Red, White and Sparkling wines. From all major wine regions. Across all price points.
The 3 top-rated (all 90 points +) Châteauneuf-du-Pape wines now in Singapore.

Up to 22% saving even if you buy 1 bottle.
Enjoy special exclusive deal: pick any combo of 4 or 6 bottles from these wines and get up to 30% savings. Plus Free Delivery.
Châteauneuf-du-Pape is widely regarded as the crown jewel of the Southern Rhône region in France.
Family-owned Leeuwin Estate has made Australia's Margaret River district globally famous for its wines.

The Leeuwin Estate Collection has 3 series at three different price points.
All have top rating in 90s and are usually in short supply. We not only have the stock, we are offering a rare promotional deal.
If you like Italian wines, then you would undoubtedly know Masi. Its highly rated wines are renowned the world over, particularly its Amarone and other premium Valpolicella wines.
Now enjoy special exclusive deals on 6 top Masi wines. Pick any combo of 4 or 6 bottles from these Masi wines and get very special prices. Up to 27% Off.
Australia's Yarra Yerring wine brand is regarded very highly around the world. The accolades never stop, the awards keep rolling in.
Since the first vintage in 1973, Yarra Yering's Dry Red Wine No. 1 and Dry Red Wine No. 2 quickly gained a reputation for quality.
The wines are fine and rare, and stocks run out quickly after each release. We have ready stocks of 3 of the finest Yarra Yerring wine that you can buy individually.
Or buy a Pack of 3 for a special promo price, which in itself is a rare occurrence for a wine in short supply!
Two Top-Rated French Reds, one from Bordeaux and the other from Rhone.
Buy 4 bottles (any combo), get 5% off. Buy 6, (any combo), get 10% off.

CHATEAU HAUT-PEZAT GRAND CRU 2016
Saint-Emillion Bordeaux reds are some of our favorite red from the region, but when a Grand Cru comes around, the bottle is guaranteed to be finished before the night is over!

If you love Bordeaux reds, then this wine is for you!
CHÂTEAU DE LA GARDINE RASTEAU 2017
From a highly-regarded winery in the Rhone region.
From Rasteau, one of the most underrated terroirs of the Southern Rhône and a stone's throw from Châteauneuf du Pape.

Sign up for our Newsletter and be among the first to hear about our new offers and promotions.
You will receive a $10 discount for your first order.
All you have to do is enter your email id when the pop-up (see the photo alongside) appears when you scroll down our store's website. You will receive a code that you can use to avail of a $10 discount when checking out after your first purchase in our online store.
The above listed promotions are limited-period offers that we run from time to time.
Then there are "always on" promotions like the ones below that run throughout the year.
We have 60 wines covered under the "Hot Deals" promotion. We keep adding new Best Price wines to the collection.

Hot Deals collection offer great value: you pay 10% lower than the marketplace prices. For many wines, the discounts go up to 25-30%.
Hot Deals wines are not just regular, everyday wines. They also cover premium wines as well as rare, fine wines. Don't believe us? Check out the collection.
All our wines are priced low. Now, grab 6 bottles of the same wine from our BUY 6 Collection (21 wines to choose from), and get a further 10% saving.

The 10% discount applies even to wines that are already selling at discounted prices. So you get double the bang for the price you pay!
Any wine you buy from us will be delivered to the address you specify.
Orders will be delivered on weekdays, usually within 2-3 business days of your order. Our delivery team will be in touch with you to inform the delivery schedule.
When you buy 6 bottles, we deliver to your designated address in Singapore – FREE.
For orders of fewer than 6 bottles, a nominal delivery fee of $10 will be charged during checkout to cover transport charges.