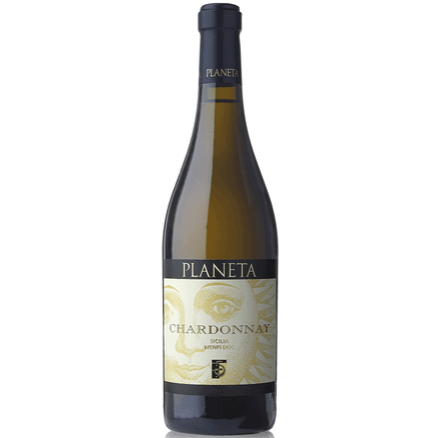 Critic's Ratings
WinesCritic.com     93
Falstaff                   94
Wine Enthusiast     92
Planeta Chardonnay Sicilia Menfi is a highly-rated, iconic wine in Sicily, as it was the forerunner of the change in the image of the Sicilian wines that Planeta wineries initiated in the 1980s.
Planeta Chardonnay is a dry white wine of the Chardonnay variety, produced by the Planeta winery under the auspices of the DOC Menfi, in Sicily.

The heart of the Planet winery is located in Sambuca di Sicilia, in the southwest corner of the island, and its origins go back to the 17th century; but it was around the mid-1980s that the three cousins, Francesca, Alessio and Santi Planeta, began their journey in the world of wine and succeeded in turning Planeta into one of the most dynamic wineries and the main wine producer in Sicily, and one whose philosophy lies in finding the perfect marriage between variety and terroir. At present, the Planeta winery has estates spread around the island's main wine regions.
Planeta appears in 'The List', esteemed classification of the 50 'World's most admired Wine Brands 2021' presented by the British magazine Drinks International, and reaching 17th place in the list and 2nd among the 6 Italian wine firms represented.
The Planeta Chardonnay Sicilia Menfi is a sensational customer favorite, and we hope you like it just as much.

Inventory Last Updated: Dec 04, 2023