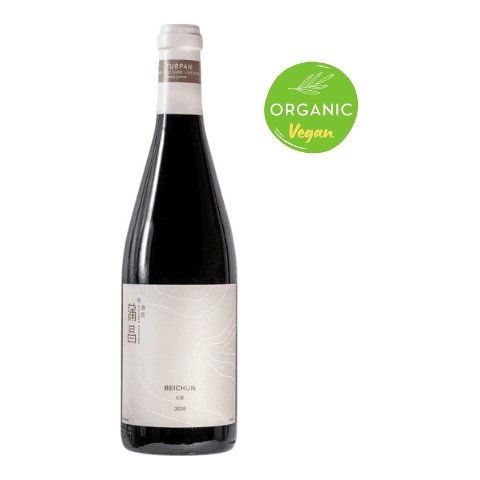 Puchang Beichun 2015, China ORGANIC VEGAN is a rich Red Wine from Turpan Valley, Xinjiang is made from 100% Beichun grapes and has 14% alcohol content. It is a completely Natural Wine, Certified Organic and Vegan Friendly.
Puchang winery focuses on organic viticulture and winemaking with unwavering dedication and care under quality management.
Grapes are watered naturally with melting snow from Tian Shan Mountain. Untouched by men and free from pollution, it channels through the underground Karez water system to their vineyards, keeping the water source naturally pure.

Deep ruby colour with a light purple hue.

Attractive aroma dominated by red fruit, rose and followed by vanilla and cinnamon spice.

Silky and consistent texture with notes of ripe red fruit, dried raspberry, and a touch of wolfberries. The finish is soft with well-balanced acidity. Ready to drink now to 15 years.
The Puchang Beichun 2015, China ORGANIC VEGAN is a sensational customer favorite, and we hope you like it just as much.

Inventory Last Updated: Sep 23, 2023